Welcome!

On this site you can find catalogues and ordering information for Holley Music publications such as 'The Guitarist's Way' series, as well as downloadable mp3 audio recordings of much of the printed music.
The mp3 Shop only sells audio recordings in mp3 format as a download 
Printed music is not available as a download. If you wish to purchase printed music, please go to the order forms instead and it will be mailed to you after your payment has been received.
Teachers and pupils have this to say about the recordings which compliment the best selling "The Guitarist's Way" series:
"The recording has helped me to learn the pieces so much quicker"
"My mum likes the recording because it's inspired me to practice more"
"The backing tracks are ingenious. I like the speeds and the variety of styles and instrumentation"
You may pay for downloads by credit card via Paypal in a secure shopping environment at the checkout. You do not need a Paypal account.
All prices are in pounds sterling.
IMPORTANT INFORMATION
When you have finished your transaction, click on Checkout and you will be redirected to the checkout page where should find your download link(s).
If not, it means that your payment is being authorised. Please wait a few moments and refresh the page.

You will also receive an email with the link(s), which will be active for 48 hours. Please download within this time, or you may need to repurchase.
If you have not received an email with your links within 30 minutes, please check your spam and junk folders. If the email still cannot be found, please contact us using the contact form.


By making a purchase from this site, you agree to terms set out in the Privacy Statement.
Please note – these files are zipped and will not download directly to an iPad, a tablet, or any other mobile device. You will need to use a computer to unzip them first and then upload them from there to your mobile device.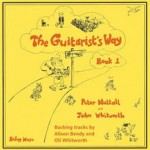 £4.99
This is an mp3 recording
of all the pieces in The Guitarist's Way Book 1 with over 30 exciting tracks to play along with. (94mb zip file)
The Guitarist's Way Book 1 mp3 track list
Also available as a download from iTunes.

---

£3.00

This is an mp3 recording of all the pieces in The Guitarist's Way Book 2 with over 30 exciting backing tracks to play along with (50mb zip file)
The Guitarist's Way Book 2 mp3 track list
Listen to a Sample "Got the Blues"
---

£2.95
This is an mp3 recording of the pieces in The Guitarist's Way Book 3 with backing tracks to capture the style and spirit of the music (36mb zip file)
The Guitarist's Way Book 3 mp3 track listListen to a Sample "On the Run"
---

£2.90
This is an mp3 recording $of the pieces in The Guitarist's Way Book 4 with exciting backing tracks created by Oli Whitworth. (34mb zip file)
The Guitarist's Way Book 4 mp3 track listListen to a Sample "Mamba"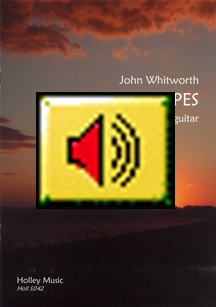 £3.60

This is an mp3 recording by Alison Bendy of all the pieces in John Whitworth's  Timescapes (28.8mb zip file)

YouTube Link
---

£3.50

This is an mp3 recording by Alison Bendy of all the pieces in Peter Nuttall's Twelve Inventions(25.4mb zip file)
---

£2.00

This is an mp3 recording of Alison Bendy playing all 8 pieces in First Guitar Pieces from Holley Music – (17.5mb zip file)Listen to a Sample "Cantico"
---

£3.40

This is an mp3 recording by Alison Bendy of all the pieces in John Whitworth's and Peter Nuttall's Diversions (21.4mb zip file)


---

£0.70
This is an mp3 recording by Alison Bendy of John Whitworth's Playford Fantasia. mp3 file
---

£3.70
This is an mp3 recording of Alison Bendy playing ten of Gerald Garcia's Etudes Esquisses.
Ten Etudes Esquisses Tracklist
Listen to a Sample "l'Amour Soucoupier"



---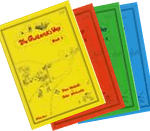 All four Guitarists Way Books at a special price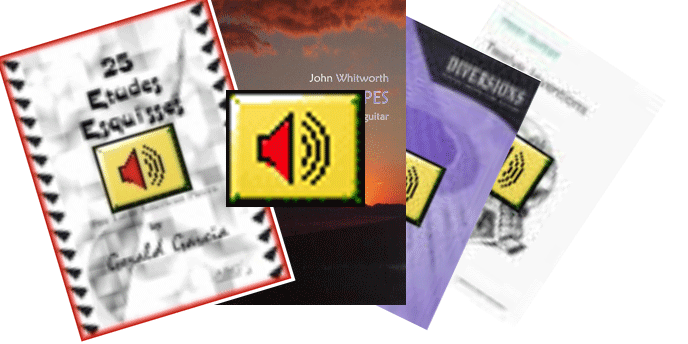 Four books recorded as mp3s-Ten Esquisses, Timescapes, Twelve Inventions, Diversions at a special bundled price